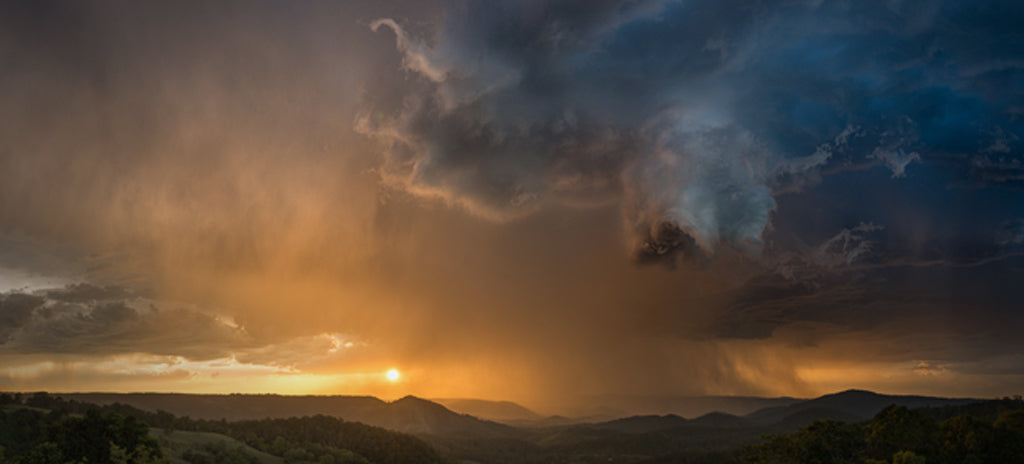 The art of dressing like a local for the climate!
The art of dressing like a local for the climate! (aka What should I pack?)
At around 410m above sea level on the southern end of the Blackall Range, Maleny enjoys a more comfortable subtropical climate than its neighbours off 'the range' on the Sunshine Coast. February is typically warm and humid with gentle breezes, with an average of 233 hours of sunshine in the month. Daytime temperatures average a balmy 28°C (83°F) and overnight lows average is 22°C (71°F) allowing a good nights' sleep. And it is also worth mentioning here, that the school venue is air conditioned as are the supermarkets and some businesses but many cafés and shops are open air.
Being subtropical, our 'wet' season is over the summer months, late December through February. This means you need to expect some rain, which is nothing like that light drizzly sort of rain, instead be prepared for a heavy downpour or two. These mid to late afternoon downpours bring a welcome drop in temperature and typically pass quickly enough to enjoy getting back outside. When driving be mindful to avoid potholes which mysteriously appear in heavy rain with absolute certainty.
Whilst an average of 10 wet days for February is normal, it is still warm and, at times, sticky so the locals cope by dressing in loose or lightweight, natural fabrics. The weather and temperature can be changeable so having a variety of layers to add as needed is highly recommended. From a pashmina, light cardigan or pullover, to a jumper; shorts and skirts to trousers/jeans; t-shirts and shirts and finally, my summer staple, dresses.
'Layered, neat, casual' would be my three 'key' packing words.
A raincoat and travel umbrella are wise additions to your suitcase if you plan to get out and about to enjoy the walks and lookouts in easy reach from the school location. Remember to stow the umbrella in your checked-in luggage otherwise it will become the possession of some lucky airport worker.
The temperature is so nice that you can enjoy getting out even if there is the occasional bit of rain. Switch it up like the locals, or down, for instance, it is common to find people wearing the great Aussie work shoe (or 'thong' to the uninitiated, aka UK/USA 'flip flops' or NZ 'jandals') in the rain to avoid drowning their good shoes. I have been seen exiting my car in 'flip flops' during a downpour and switching to my good shoes before entering a restaurant. I also enjoy wearing 'flip flops' or casual slides on warm fine days though I enjoy a dressier sandal or shoe for such occasions as dining out, attending conferences, and going shopping. Sports shoes (aka sneakers or runners), skate shoes, and dress shoes are also common. Not to leave the men out, boat shoes, loafers and dress shoes are also typical at that time of year.
Being summer I would only wear boots for gardening or serious hiking, and gumboots for getting to and from the chook house or opening the front gate in wet weather. So, feel free to leave these heavy items at home unless you are offering to do some weeding. Oh, and you may well ask - What is a 'chook'? Just keeping our international readers on their toes – this is the Aussie slang for 'chicken'.
Right, have I covered it all? Nope!
Please don't forget a sun hat. This valuable accessory is vital to avoid sunburn and shades your eyes. And on that note, chuck in your sunnies too. And lastly for the enthusiastic, your togs and a travel towel may come in handy for a quick dip in a local waterhole, waterfall, pool or the sea (35 minutes-drive away).
Yes, yes, I hear you. What are all those other Aussie words I left to your imagination? Let me check those off for you:
- Gumboots – galoshes or Wellington boots
- Chuck – throw
- Sunnies – sunglasses
- Togs – Queenslander and NZ slang for swimming costume, cozzies, swimmers, or as a Western Australian by birth, I would say 'bathers' (much to my kids' horror)
- Quick dip – a swim, though mostly getting in and out to cool off without truly swimming
- And lastly, waterhole – a natural hole or hollow where water collects.
And before I sign off, a few local safety tips just to be the voice of common sense (aka mum/mom):
- never swim in rain swollen water courses
- never dive into water courses due to the high risk of submerged logs and rocks
- and if it is flooded, forget it i. e. don't attempt to drive in or through flood waters.