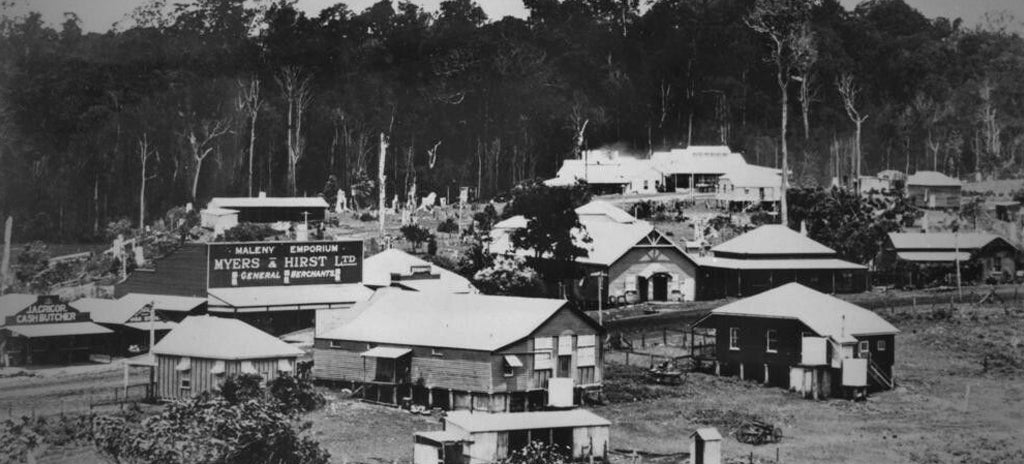 The Maleny Backstory - in brief
(Maleny is pronounced Mul-ay-nee)
Maleny is a young town compared to most. Founded in 1878 this means it was established only 90 years after the First Fleet arrived in Sydney Cove to establish the first British colony. Explorers continued to seek riches and ideal living locations, and settlers were eager to follow them. Brisbane, north of Sydney, was founded as a centre of commerce and other smaller towns, such as Maleny, developed according to resources and opportunity. Later, when Australia was sectioned into states, Brisbane became the capital city of the state of Queensland.
The arrival of the Maleny settlers displaced the local Jinibarra, Aboriginal Peoples, from the Gubbi Gubbi nation. Whilst many local suburbs, streets, rivers/creeks and other landmarks are named with derivatives from the languages from the Aboriginal Peoples of the region, others are named from the trees of the area, like Bunya Street. The local 'Bunya tree' has cultural and social significance, and the yearly 'Bunya Festival' at nut harvest time is an important time to the region's Aboriginal Peoples.
Maleny and surrounds were originally subtropical rainforest with desirable timber trees, such as the red cedar trees, and these were a draw card for settling the area. Timber was a much sort after commodity for building and furniture production not just for the locals, but for other townships, centres of commerce (such as Brisbane and Sydney) and back 'home' in England. Not surprisingly, timber felling cleared the rainforest, and farming commenced, dairy, beef cattle and small crops. However, this primarily turned to dairy farming and fruit growing over time. Due to good rainfall and mild dry season, the pasturelands are covered in swathes of lush green grass all year round, though at times, these are especially iridescent and we often remark that the grass is so green it must be on steroids.
The local dairy farming industry suffered a downturn as a result of government 'deregulation' in 1999 so many smaller farms shifted gear to beef cattle farming instead. Some larger dairy farms remained viable and continued on, many supplying the local milk producer 'Maleny Dairies' and supporting other small businesses. The area is now mainly a tourist region with mixed farming, with a side of wedding industry, and an eclectic mix of creatives.
Maleny and other towns such as Montville and Mapleton are within the 'hinterland' of the Sunshine Coast Region, with Maleny being the largest and most resourced. The roughly 4000 Maleny residents enjoy a relaxed, 'laid back' lifestyle with easy access to the coast (around 35 kilometres east) and Brisbane (approximately 100 kilometres south). Though some locals are reluctant to ever leave the range and rarely venture to Brisbane, with a 'tongue in cheek' manner they may even refer to the busy capital as 'Brisvegas'.
This much abbreviated version of Maleny history can only give you a glimpse of the past and does not do justice to the richness of information available. If, however, you are inspired to read more here are some links:
http://www.malenyhistoricalmemories.com/
https://queenslandplaces.com.au/maleny
https://visitsunshinecoasthinterland.com.au/town/maleny/
Locally there are opportunities to explore the history, such as
 And viewing olden day photos displayed in the Maleny Visitors Information Centre or Maleny Butchery.