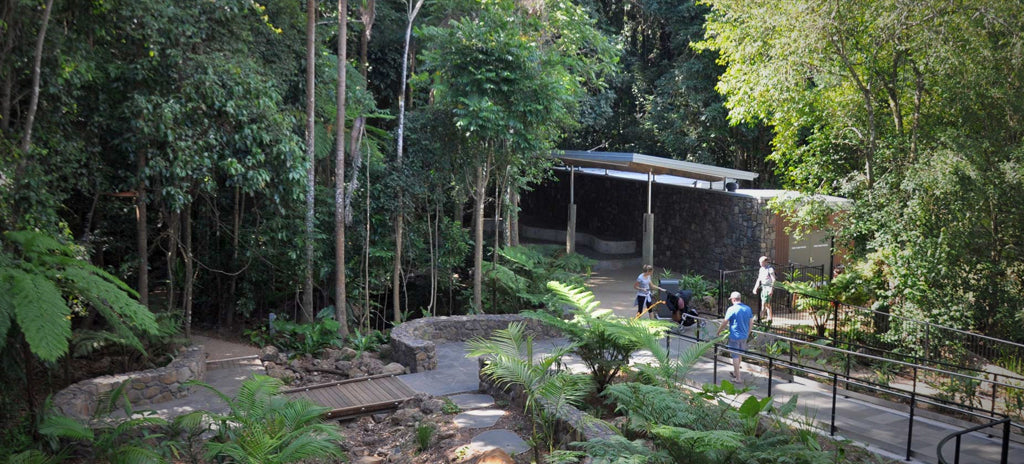 Where to stay
We acknowledge the accommodation options in the Maleny area requires just a little more thought than if heading to a holiday resort location or city. So, with this in mind I thought it may be helpful to offer some more information than that already briefly noted on the blog 'How to get to Maleny'.
Just a note to say we are not sponsored by nor affiliated with any of the accommodation options. And here is the usual disclaimer…The information provided is general in nature and thus it is your responsibility to check the accommodation meets your expectations and remember to check the distance to Maleny Community Centre matches your transport option, check the reviews, and look at the inclusions e. g. view, continental breakfast basket, kitchenette for simple meal preparation, tea and coffee making station, own bathroom vs shared etc. I have had look at the options myself and just a word of caution, I recommend looking at the images (especially for privately owned properties) to make sure the room decor and environment looks spiritually acceptable!
Being rural there are no major hotels. But the benefits of the other options are plentiful. For example, windows open to enjoy the fresh air, windows and decks may look over rainforest or farms, or have views of the township, coast or mountain vistas and with some, you may feel closer to nature for an authentic stay on a farm.
The Maleny township itself has limited options within easy walking distance. However, there are many options within 5-10 minutes of Maleny though transport options need to be considered.
First, let's have a look at the following considerations….
There are multiple booking sites online but the main reliable ones seem to include Airbnb.com.au, stayz.com, and bookings.com. Try an internet search for 'Maleny Accommodation' to see the many booking company options and start browsing by sorting according to your dates and budget. It is good to look at out the amenities and details via these sites but then check if there is the option to contact the location to book directly and save.
Also, if you travel often, you may have a booking company or travel agent that can find you an option to use any travel bonuses you have accumulated.
Try using sites such as 'Trip Advisor' or Triago.com.au to look at options by price and date, as well as checking the reviews. Then explore the booking options through different sites for that location to check for the best price (sometimes there is a difference). Use the 'nearby' section to explore other suburbs within easy reach of Maleny if you have a vehicle.
Be aware to check that the price quoted is per night or, if you have put in dates, it could also be for the total stay.
If you have a vehicle and use the search term 'Maleny accommodation' this will bring up a range of 'local' options that have different suburb names. So, check the map or use a distance finder to see how far it is from the Maleny Community Centre (Maple Street). Other local suburbs within 5-15 minutes include Landsborough, Balmoral Ridge, Reesville, Witta, and Montville amongst others.
If you are traveling with family or friends, consider a location where the number of rooms (and bathrooms) can accommodate you all such as a house, cabin or guest house so the nightly cost is split between you. Do check the number of guests covered by the cost per night.
Countryside tip - sometimes it is worth weighing up the cost of the car hire (or even campervan hire) so you can manage your accommodation budget.
Many options in the area include a full kitchen or well-appointed kitchenette to enable you to prepare your own breakfasts, lunches and simple meals as a means to manage your budget.
Remember to check the exchange rate if traveling from overseas to put our Aussie dollars into perspective.
Options
High end options include whole houses, self-contained cottages, cabins or guesthouses, and rooms.
Average options include privately owned and operated small hotels and motels, self-contained cottages/cabins or rooms with private ensuites.
Budget options include privately owned/operated cabins and rooms, or there are well appointed self-contained cabins within the two caravan parks in Landsborough (Ocean View Tourist Park and Ingenia Holidays Park).
More likely for the Aussie camping or caravanning attendees traveling by road - there are also camping or RV/camper van/caravan sites in the above-mentioned caravan parks or at the Maleny Show Grounds. For private camping options, look up aircamp.com.au or hipcamp.com where it is likely more secure to leave your belongings for the day than at national parks camping grounds (but look for those with bathroom facilities and type of vehicle access, some even have basic cabins). For national parks camping see this link - https://parks.des.qld.gov.au/camping/bookings
The Maleny Showgrounds are within easy walking distance but have a maximum 3-night stay (see pictured below) and all sites are powered sites for $25 a night, there are toilet blocks and coin operated showers. Some sites are shaded but others are in full sun. Do locate yourself away from the skatepark end if you can though you are likely not there at the busy 3-6pm time of day due to our session and meal break times.
 http://www.malenyshowsociety.org.au/
Clothes washing
If your accommodation does not have a laundry facility and you have run out of your essential clothing, didn't take my earlier advice in relation to wet weather, or have an urge to do holiday washing, there is the self-service 'Maleny Laundrette' at 28 Coral Street with coin operated/card operated washers and dryers, open 7.30am to 8pm. The link below provided all the details of costs, and machine availability including note exchange machine and vending machine for washing liquid. PS – avoid the horse blanket washing machine if you like hair free clothes!
https://www.truelocal.com.au/business/maleny-laundrette/maleny