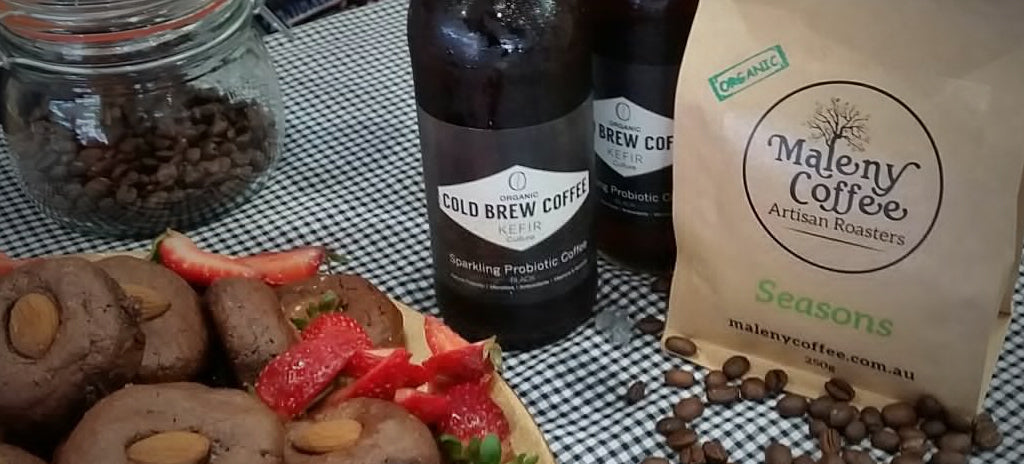 The 'all-important' hot BEVERAGES
Coffee culture is a 'thing' and Australia has been gripped by it for quite some years too. Whilst it is not a necessity, a good brew is nice thing to enjoy when able (or so I hear). So let's talk the good bean and more!
Coffee
Whilst Maleny has no drive-through coffee booths there are an abundance of coffee serving cafes who offer sit in or take away. So, all the dedicated coffee connoisseurs can take half a sigh of relief. However, reserve the other half sigh for after you've sorted out what sort of coffee you want! Look up Maleny café's on 'Trip Advisor' as a starting point or ask a local for hot tip.
The usual coffee options include: flat white, latte, cappuccino, macchiato and espresso (plus others sometimes). And like a certain movie, you can order by number of 'shots' and decaf, but not generally the twist of lemon.
If milk in your coffee is your thing, there is usually a choice and some outlets have many different milks available (e. g. cow's milk - full cream, skim, or lactose free are common; or plant based mylks such as soy, almond or oat).
Then be prepared to choose a cup size, for takeaway most places have the cups sizes displayed on the counter top, and for sitting in, the options are cup (on saucer) or a mug.
A note to our American friends, Aussie café's do not have the 'endless pot' on a warming plate, instead a barrister makes up each order so be prepared to give a first name and wait.
Oh, and the last note of coffee, an iced coffee may be more appealing on a hot day.
Tea
Our English and Indian friends can be reassured, we drink tea too. In fact, this is my preference. You can usually get black tea (with or without milk), English or Irish Breakfast, Earl Grey, Green, and some herbal teas. Remember to check for the milk you want too.
When sitting in, you may be offered the tea in a cup or a 'pot'. The latter means the tea will come in a mini teapot with a mini jug of your desired milk and the cup to pour it into when you are ready. I love a pot of tea as I can let it steep. Also there is usually 1 ½ or 2 cups in the pot thus avoiding that mournful look into the empty cup when you thought you had just one more sip!
Iced tea is a heavy sugar hit, but flavoured bottled iced tea can be found in the supermarkets and café fridges e. g. mango or peach iced tea.
Hot choc
February down under is not necessarily associated with the warming comfort of a hot chocolate drink. However, it is typically available and as per coffee, the iced chocolate is a refreshing hot day alternative.
A general note on tipping
Tipping is not built into the Aussie pricing structure and it is not expected. So the price you see on the selection board or menu is the price you pay. Occasionally there may be a service fee (e. g. on a public holiday – but there will be none over the school period).
However, if you get great service or had a particularly pleasant meal, drink or server, then tipping is optional and can range from dropping coins into the shared 'jar' on the counter or directly giving token of your appreciation to the server (e. g. if paying at the end).
What is included in your attendance ticket?
As part of the ticket price, a hot beverage will be available with a biscuit at both the morning tea and afternoon tea breaks. We will be providing Moccona coffee, black tea, earl grey tea and green tea, with full, skim and lactose free cow's mylk, soy milk and oat mylk.
Our amazing volunteers will be providing these at the servery window within the main hall of the Maleny Community Centre. Any food and non-alcoholic drinks are allowed to be consumed in the main hall where the school is being held.
If you fancy additional snacks or drinks, feel free to bring those along or pop out during the breaks to grab a drink or bite to eat. Whilst we won't lock you out, please be back on time as we plan to start session times promptly.
Are you loving the Aussie spelling? Have you spotted the obvious differences?