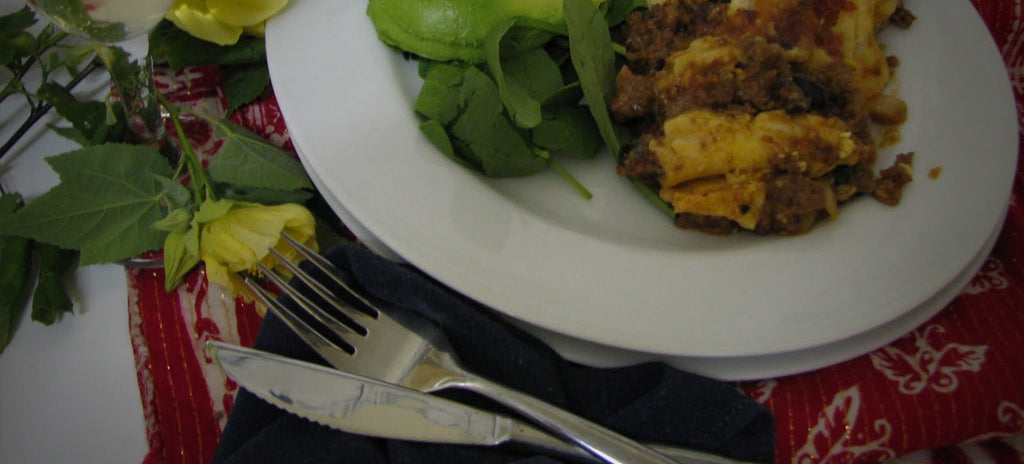 Tips - Dine and run, grab and go, or picnic/BBQ
Dining out in Maleny is fabulous but like all small towns there is an art to this! Plus we have specific meal breaks in the schedule to consider and there are NO fast food chains (Did I hear any screams?).
Australian cuisine has had many influences and is not simple to describe due to the eclectic mix you may see described creatively as 'fusion'. Aussies tend to eat and cook a range of cuisines from around the world as Aussies themselves are from around the world. But whilst you are here, try a real Aussie favourite, if you dare, the beef pie. My favourites are from the Maleny Bakery and the Maleny Pie Guy. Oh, and don't forget the tomato sauce.
So I have put together some thoughts to help you navigate the meal options and easily satisfy the gnawing hunger when it beckons.
Tip # 1 – Cook at your accommodation
If you are staying within a 'cooee' (aka a short distance) of the Maleny Community Centre and have a kitchen facility, your options include stocking up on breakfast, easy lunch and quick dinner options from the fresh food fridges at IGA and Woolworths, as well as from the bakery. The fresh food options include ready-made meals for 'heat and eat' or kits/items for simple cooking, fresh salads or bagged salads. One of the Italian places (Santini il Pastaio) sells fresh pasta and sauces to take home to heat and eat in individual portions (as well as a smaller range in hot take away).
Of course, if you love to cook, and you can achieve the very speedy 'Jamie Oliver 15 or 30 minutes meals', by all means go for it!
Tip # 2 – Eat your main meal at lunch some of the days
One of the quirks of country living is there are more places open for breakfast and lunch than dinner! So my second tip is to mix it up a bit and eat some of your 'main' meals at lunch. Then at dinner grab a light option such as a sandwich, cheese platter or takeaway for dinner.
Tip # 3 – Grab a meal or part meal from the Supermarkets
Both supermarkets have hot food options. IGA and Woolworths both have cooked chooks (Aussie slang for a rotisserie cooked chicken or half chicken), other roast meats and nuggets. IGA offers chips and sometimes has hot meals.
Again, both supermarkets have ready-made salads, typically in two locations, the fresh 'deli' section and in the fresh produce section (kit or bagged salads).
Tip # 4 – Make a reservation for dinner
Make reservations for dinner to ensure you get an early sitting if you want your main meal at night (remember there will be around 250 people looking for dinner - see Tip # 2). If you just 'rock up' (arrive) you may not be accommodated. There are some lovely restaurants just outside of Maleny – within 5-15 minutes' drive though prices vary from moderate ($$-$$$) to almost fine dining ($$$+). Most locations have a website or Facebook page so do a quick search on the internet for 'best restaurants in Maleny and Montville' and factor in the drive time. A reliable review website is 'www.Tripadvisor.com.au' and on there is usually a link to the locations own website for up-to-date menu, opening hours etc.
Tip # 5 - Takeaway
Order a 'take away' option from those noted below and more. And eat it in one of the parks, or find a bench along the walkways or street.
Tip # 6 – Cheese and cold meats with crackers (DIY antipasto)
Maleny and nearby, Kenilworth are well known for cheeses. I am blessed to be able to tolerate cheese and, well, I can tolerate a lot.
You can purchase some of the varieties directly from the Maleny Cheese Factory (5 minutes out of town) or for a wider range from these two businesses and further afield check out the range in the gourmet cheese fridge in IGA. Cheese, crackers or bread, cold meats, olives, cornichons and sun dried tomatoes make a lovely antipasto platter for a shared picnic lunch or dinner.
Tip # 7 – Plan your eating itinerary
Brace yourself for another country quirk! Some businesses in Maleny close for a day during the traditional working week! This is due opening all weekend for tourists. If you are staying on for the weekend, be mindful that the small retailers close between 3 and 4pm and café's close from around 2 onwards so check out opening times on shop windows or on websites.
Tip # 8 – Go FULL Aussie and have a BBQ
Have a simple BBQ (aka barbeque) in the park (see Blog 'Maleny- a well serviced town') using the free barbecue hotplates.
g. buy a few sausages from one of the two butchers or supermarkets and buy a loaf of bread or packet of hot dog buns for a quick and easy 'snag' in bread with tomato sauce.
g. buy a steak, bread/roll and a bag of salad and enjoy a steak sandwich
e.g. buy a bag of fresh or frozen stir-fry vegetables and a bag of stir-fry sauce (though the BBQ clean-up after cooking with a sauce is hard going)
Tip # 9 – Life is easier with a spork
We always travel with a sturdy plastic or titanium 'spork' and whilst they are safely stowed in our checked in luggage for flying, they then become part of our everyday pack.
This versatile tool allows a quick bite to eat whether you need a fork or a spoon. Some even have a rudimentary cutting edge which can roughly saw at food but is no good for cutting up meat. So when is it useful? Well check out these thoughts:
A single serve yoghurt pot from the supermarket is a quick and easy snack when you are equipped with a spork!
Single use plastic cutlery and straws were banned by the Queensland government in late 2021 so if you get a takeaway you may be given wooden cutlery or none at all e.g. hot food from a supermarket but it's no problem if you have a spork!
A spork makes eating a supermarket salad easy!
But wait there's more ….. If you find yourself with a meal and no cutlery - you can buy whole packets of plastic spoons, forks, knives and plates or small packs of metal cutlery from the supermarkets, or pick up a temporary supply from one of the three charity shops in town – Lifeline, Bloomhill and Salvation Army stores).
Tip # 10 – Storage tip
Pack a few loose 'zip lock' bags to package snacks, lunches and leftovers.
Tip # 11
There are many different ways to be 'seated' and to pay across the places to eat in Maleny. Put your observation skills to the test and go with the flow. Here are some examples of how to be seated and when to pay (in any combination):
Wait at the entry point signage/counter to be seated by a server, they will provide menu's and daily specials (either verbally or from blackboard selection)
Find a table and be seated as long as there is no 'Reserved' or name marker on the table, you may find menus on the table or you may have to grab a menu from the counter
Go to the counter and wait to be served, then collect the menu and be seated
Place your order at the table with a server/host and pay at the end of the meal (bill presented and pay at the table or at the counter
Place your order and pay at the counter and you will be given a number to take to your table
Place your order at the counter, pay, and get an electronic beeper that goes off when you need to go and collect your meal (though only 1 place uses this).
Tip # 12 (just because an even number feels so much better)
Look for daily special offers on the menu or on blackboards.
A general note on tipping
Tipping is not built into the Aussie pricing structure and it is not expected. So the price you see on the selection board or menu is the price you pay. Occasionally there may be a service fee (e. g. on a public holiday) or for some establishments though this is not common and the money goes to the business. However, if you get great service or had a particularly pleasant meal, drink or server, then tipping is optional and can range from dropping coins into the shared 'jar' on the counter or directly giving a token of your appreciation to the server.