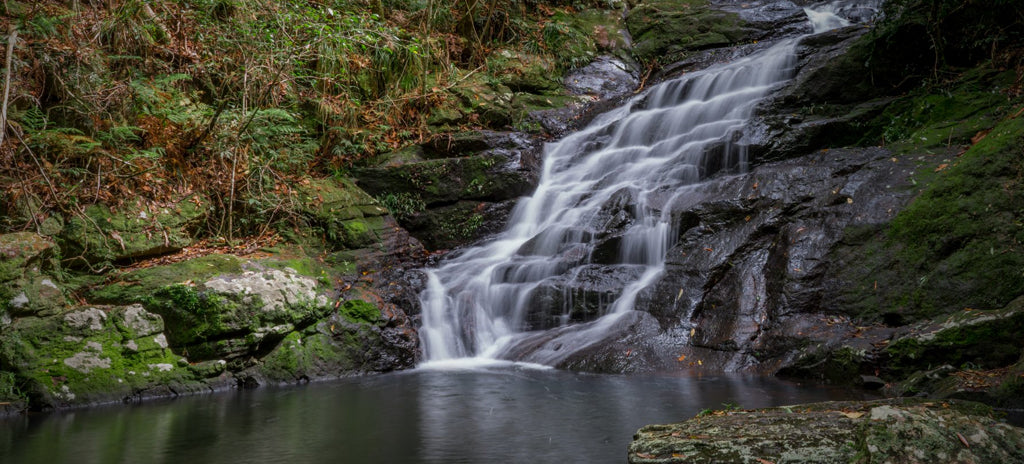 Tree changers and Wildlife
You may be familiar with the term 'sea change' and how it used to describe the movement of retirees to the coast to live. Well, the saying has evolved over the years to encompass people of any age moving for lifestyle choices. More specifically Maleny has 'tree-changers', those who come to the area for the natural beauty, trees, hobby farms and the relaxed lifestyle.
The tree changers who embrace the change of pace and accept that some conveniences are 30-90 minutes away, do the best, and stay beyond the settling in phase.
We gave ourselves two years to settle in, and once the wildlife moved out, we did.
When we moved in, the house had been unoccupied by humans for a few months so a few of the 'locals' had moved in! These residents included a couple of small lizards, a few geckos and some big mice (or what we thought were mice) however they soon found the house way to crowded and noisy for their liking and left without a backward glance.
I will never forget my surprise on the driveway a few days after moving in - whilst getting out of the car I saw one of these 'big' mice hoping across the drive. Mark is not one for theatrics so he paid little attention to my wild gesticulations until he too was surprised to see this brown furry animal hoping out from under the car. We discovered these are not mice at all, but a native marsupial, the antechinus. At certain times of the year, these little guys still try to come back inside for their first choice of nesting locations, the lounge suites, but with some persuading they get banished outside.
Living on the edge of a forest we occasionally get other wildlife incursions that cause short term excitement but thankfully these are quickly resolved. One such experience involved a microbat. Bats can carry disease so I am definitely not a fan, plus, no matter how small, I think bats are really creepy - and apparently so do others. Another male relative (who will remain anonymous) was heard screaming in surprise in response to a 'flyby' from a panicked microbat during this incursion. This poor little confused microbat was trying desperately to get back outside after it somehow timed its flight path with a door being opened ending up inside. After exhausting ourselves trying to herd it out by waving tennis racquets and brooms, we discovered the simple approach is always easier! Instead, we closed it into one room, opened the window, took out the flyscreen, turned off the lights and waited for the offender to use its bio sonar to find the opening. Thank the Lord that we have dominion over the animals and the sense to care for their welfare despite our own trepidation!
Wildlife is actually one of our joys living here and I soak in experiences as they present themselves. I love seeing a possum scamper along a powerline or an echidna slowly saunter across the road though we always give them time and space to do their thing as both seem oblivious to the danger. Wallabies and small kangaroos are around at dawn or dusk in some areas, and they may surprise the unsuspecting driver with a late dash across the road. We also have a variety of pademelon, a small reddish-brown hoping marsupial around 60cm high. These can be easily seen at Mary Cairncross Scenic Reserve if you take a quiet and slow walk through heavily shaded, cool subtropical park. When you see one, take the time to look for at least a second in its vicinity. Mark and I recently walked through the park in the late afternoon and saw 25 of them, an all-time personal record probably due to the time of day. Having said that, we took visitors around the park just after midday a few weeks later and had the delight of seeing at least 10.
Country Aussies are used to looking where they walk especially when venturing out on bush walks. Avoiding a snake sighting is easy! Heavy footfalls are usually enough to send snakes off into the bush. But if you happen to see one, just back away and wait for them to leave. Most are non-venomous but others are not so it's definitely best advice to not bother any of them and they will not bother you! We acknowledge snakes can be around, but we rarely see one. More common are the harmless, Eastern Water Dragon, which sound much more impressive than they are in reality. This local lizard variety are small at around 50cm in length, and are timid but adventurous. They can be spotted around the Maleny township sunning themselves on the rock walls near the roundabout  and especially at the Maple Three Café where they can be seen sneaking a crumb or two from under the tables.
We have been blessed to see koalas in our area but this is not a common occurrence. Having said that, we are more likely to hear one than see one! Who knew koalas make a noise? I certainly didn't until we experienced our first koala breeding season, when we heard the most dreadful noise coming from the forest at night. A quick internet search later, we discovered that this noise came from a koala! This throaty din is usually the male koala bellowing through the forest looking for a mate and claiming his territory for the season. The females also make a bellowing call however this is not as often nor as loud, and sometimes it can also be more like high pitch screeching in response to unwanted attention. Here's a link for examples of this unusual racket!
Australia Zoo
I am largely avoiding advertising specific businesses, but this one is worth mentioning as wildlife encounters in the 'wild' are not guaranteed due to the reclusive nature of most Australian animals and thus, our experiences have occurred over many years.
For guaranteed experiences of Australian wildlife, the renowned Australia Zoo is located on 'Steve Irwin Way' only 25 minutes away from Maleny, on the driving route from Brisbane. This is a fantastic location to see an array of Aussie wildlife from all over Australia and from different habitats such as the coastal plains, subtropical and tropical wetlands, highlands, and deserts. The Australian wildlife available include crocodiles, dingoes, echidnas, red and eastern grey kangaroos, koalas, a range of birds (large birds such as the emu and cassowary, and small such as the cockatoo and kookaburra), big lizards, snakes, turtles, wallabies and wombats. The two kangaroo/wallaby enclosures allow feeding opportunities but remember to purchase a $3 bag of 'roo food' from the Guest service desk near the entry before setting out or any of the gift shops.
Australia Zoo is home to many other animals from across the world, both large (e. g. elephants, rhinoceros, giraffe, tigers, and zebras) and small (e. g. birds, meerkats, reptiles). Have a look at their website to see the full list and plan your visit ahead of time using the map link below as the zoo is large due to the re-created habitats. Don't forget to check the times of the included 'Conservation Shows' including my favourites, the Wildlife Warriors (crocodiles and other animals), Tigers LIVE and Koalas LIVE shows. There is other individual wildlife 'experiences' available at additional cost from the entry ticket.
https://www.australiazoo.com.au/wildlife/
https://www.australiazoo.com.au/visit-us/zoo-map/
https://www.australiazoo.com.au/visit-us/plan-your-day/
https://www.australiazoo.com.au/experiences-australia-zoo/conservation-shows/
To make a half day or full day visit more comfortable and enjoyable, there are a few more suggestions in the link below of how to prepare:
https://www.australiazoo.com.au/visit-us/how-to-prepare/
Oh and PS, if you don't get to see a wild platypus in the Obi Obi Creek as per the earlier blog, see if you can spot this one somewhere in Maleny….